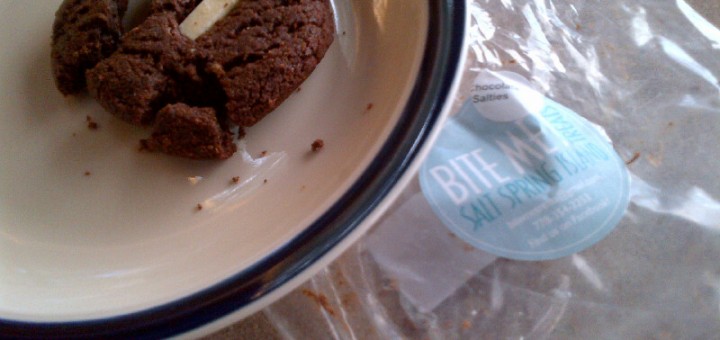 ..And What It Has to Do With Alison Redford's Resignation
This is the first picture I have ever taken of food and posted online.  (It may not be the last, but I can promise you there won't be many more, because I'd much rather watch cat videos than photos of somebody else's meal growing cold on the plate while they freakin' tweet about it!)  What I'm saying is, this has to be a pretty special cookie to merit what I'm doing to it.
And it is.  Martha agrees.  These are the best cookies either one of us has ever eaten.
It's called a Triple Chocolate Salty — organic sugar (I like it when the first ingredient is sugar), organic flour, Belgian dark and white chocolate, Fleur de Sel, cocoa, and baking soda.  It comes in a package of six from a bakery on the south side of Salt Spring Island, on the way to Fulford Harbour.  The bakery — which you can find on Facebook, but I believe you'd enjoy more if you came here in person — is called Bite Me Treats.
Given the bakery's name, it seemed appropriate to blog about its amazing cookies on the very day Alison Redford delivered, via the op ed pages of the Calgary Herald and Edmonton Journal, a 971-word letter of resignation to you and me whose message is essentially:  Bite me!
Sitting here on the deck of our rented cottage, looking out over the calm, blue water drifting by as it has since the end of the ice age, I realize the water, the surrounding hills, and indeed, Mother Earth herself don't give a damn about Alison Redford and her self-serving resignation letter.
I see Jason Markusoff of the Herald has already broken it down — 93 words of introduction, 32 words of contrition, 342 words about her personal accomplishments, 169 words of blaming others and avoiding future comment, 143 words about her future, 48 words declining her final entitlement (the transition allowance), and 84 words of thanks to family and friends.
She did not end it with "So long and thanks for all the fish".  Somehow, it feels like it would've been appropriate if she had.
Now if you'll excuse me, I have to get back to something much more pleasant…and chocolatey…