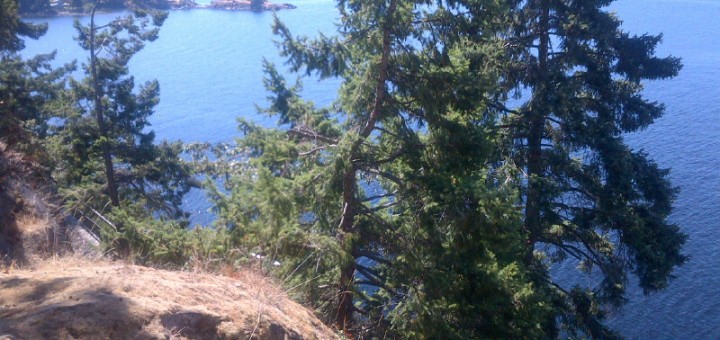 Shortly after I posted "Most Kids Have Invisible Friends — And So Does Alison Redford", a reader tweeted about how she'd heard on NewsTalk 770 that obsessively checking work stuff while on vacation is bad for you.
(Hah hah — I get it.  She heard that on my show.)
When it comes to the Sins of Alison Redford, I don't have to check work stuff even occasionally. Like some perverse gift that keeps on giving — or more precisely, like one of those horror/slasher movies where they never stop making sequels — that stuff comes to me.  Seeks me out.  Like home improvement guy Shell Busey used to say, back in the day, "It's just that easy!"
So, gentle reader, let me allay your fears.  I am on Salt Spring Island, and it is, indeed, an ordeal.  Here, for instance, is a photo in which I am at the laptop, deep in thought in regards to the literary masterpiece I am attempting to create for y'all —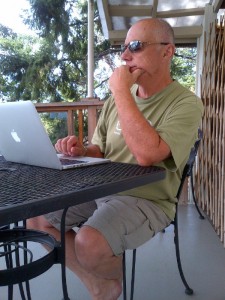 — and here is a photo of what I am in deep thought about.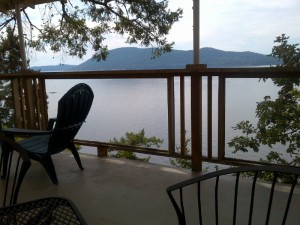 That's the view from the deck of the vacation home we've rented.  It overlooks the channel that separates Salt Spring Island from Vancouver Island.  It is deceptively easy to lose oneself, looking out over the calm, blue water.. to become mesmerized in the ever-changing patterns of the ripples that play across its surface.. to watch a boat sail by.. an eagle skim the surface looking for a fish.. a seal with only its head above the water, looking back at you.. and to forget that you had any plans for today at all.  Martha and I tend to get nothing at all done before noon.
They tell me about 11 thousand people live on Salt Spring.  This being the Monday of a long weekend, I'm betting there are twice that many people here today.  Vancouver Island is a big enough piece of land to be its own country by most of the world's standards.  Salt Spring, although much smaller, is huge by Gulf Islands standards, both in population and land mass.  It takes about an hour to drive from one end of the island to the other.  You could do it in less time if you pushed it, and the traffic (other than long weekends) is light enough that you could push it…but why would you want to?
Besides, the island is crawling with deer — tame, mellow, chillin' deer who, like, cross the road whenever.  To be fair, they tend to saunter out into your path rather than leap into traffic, Alberta style — and they're a good deal smaller than a mule deer.  But still, they're big enough to kill your front grill and your mellow, should you happen to hit one.
An interesting mix of people inhabit the island — some hard-core hippies, some long-time island families, some farmers, a ton of artists, writers, musicians and other creative folk, outdoor/nature types, farmers (the food here is so fresh and plentiful), and people-from-the-mainland.
I can't tell yet whether the people-from-the-mainland are changing the character of Salt Spring Island.  It's safe to say many of the mainlanders who've retired here came to the island precisely because of its character and they are more than willing to fit themselves to it.  That's certainly also true of mainlanders who've been here awhile, like the couple we met at the $15 a plate salmon BBQ at the local Anglican church a few nights ago.  They abandoned the Rat Race in Toronto (he was a stockbroker) 25 years ago, put down roots on the island, built careers and a life for themselves here, raised their family here, and have become islanders through and through.  And it's probably true for entrepreneurial types who've discovered they can live on the island, do their business online for the most part, and, when face-to-face meetings are called for, take the short hop via Salt Spring Air seaplane direct to downtown Vancouver (or to YVR and connect to Calgary) and be back home in time for dinner.
But then there are the mansions at the ends of long, gated driveways, out of which periodically emerge people in Jaguars and 700-series BMWs and such.  Ask the locals who lives in those places and the answer that comes back is, "Rich people from Vancouver."  And some of them are people for whom the $2-million mansion on Salt Spring is the second home, the weekend place, the cabin. The early impression is that those mainlanders maybe are changing the island's character.  But then again, we've only been here a week or so — not long enough to know for sure.
But figuring that out is bound to take more brain power than I'm prepared to exert on a glorious day like today.  And like the bumper sticker says, "Relax — This Ain't the Mainland."  I'm going kayaking!