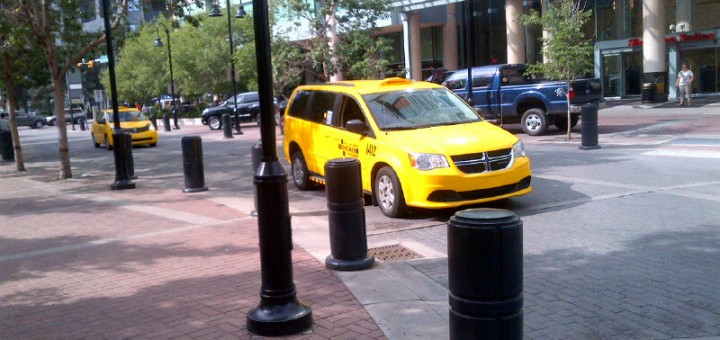 Did your heart swell with pride this week when The Economist Magazine declared Calgary the fifth most-liveable city on Planet Earth?
I'm guessing not…and not because you don't buy it (I'm guessing you do).  Unlike Torontonians, who seem to need continual validation that their city really is world-class and not merely Des Moines pretending to be New York, we Calgarians are a confident lot.  Sure, we'll take the compliment.  But we already know we're living in the Centre of the Universe — or someplace very close to it — and it's good of the folks from The Economist to recognize that.

Of course, they might have marked us lower if they'd been trying to get a cab in this town.
Perhaps the most frustrating interview I've done this year was with the guy from Uber, the ride-hailing service.  It was earlier this summer.   Uber was using ice cream trucks (!) to demonstrate to Calgarians how their app would work, and I wanted to know more — like, when we might see Uber here, and what sorts of hurdles Uber still needed to overcome in order to launch.  Amazingly, I couldn't get a straight answer out of him to any of my questions.
That should probably raise, if not a red flag, at least a caution flag.  Uber may not be the perfect solution to our taxi conundrum.
That said, I am amazed by the protectionist attitude of the Taxi and Limousine Advisory Committee (TLAC), the body that regulates the cab industry in Calgary in the public interest (allegedly) and is therefore ultimately responsible for why you can't get a cab in this town when you need one.
Last Friday (August 15), in response to a city council request, TLAC presented a report that labelled Uber a risky "shadow taxi service" using unlicensed vehicles and unregulated drivers, and said driver and passenger safety are major concerns.  The TLAC report argued that Uber can only enter the Calgary market if it abides by TLAC's regulations.  That would almost certainly mean treating Uber cars like limousines, meaning all rides must be pre-arranged at a rate of $78 an hour.
Uber operates in Toronto, Montreal, and Halifax, in a bunch of US cities, and in a number of markets across Europe.  The sky has not fallen, although it has undoubtedly grown darker for the entrenched interests in the taxi industry.  And, I would argue, with good reason.  People like Uber for the simple reason that they can get a ride when they need one at a reasonable rate (although there are reports that Uber's rates have risen dramatically in some markets where they've gained a good foothold).
We were discussing this on my show on News Talk 770 last Monday (Aug 18) and Marc Halat, the City of Calgary's chief livery officer, called in.  While he failed to give me a single concrete example to support his claim that Uber is "risky", he did launch into a spirited defence of the status quo.  As for reforming or modernizing it, Halat told me, "it's complicated" and that he's been researching and working on it since he took the job seven years ago.
(You can imagine how that went over with the audience.)
Peter McCaffrey, a research fellow with the Manning Foundation, also presented to the TLAC, and I had him on the show yesterday (Aug 21).   I rarely find myself on the same side of an issue as the Manning Foundation, but on this one, I do.  McCaffrey nails it when he says the taxi market as it exists is simply out of date.
Uber is merely the biggest ride-hailing service….other apps already exist, and more technology is coming, that make the status quo in the taxi industry redundant, like the automobile did to the horse and buggy and the Internet has done to nearly everything else.
The TLAC report goes before a Council committee in early September, where it should get a rough ride from at least one city councillor.  Druh Farrell nails it when she says the city's responsibility is to ensure safety and customer service, not to protect the taxi industry from competition.