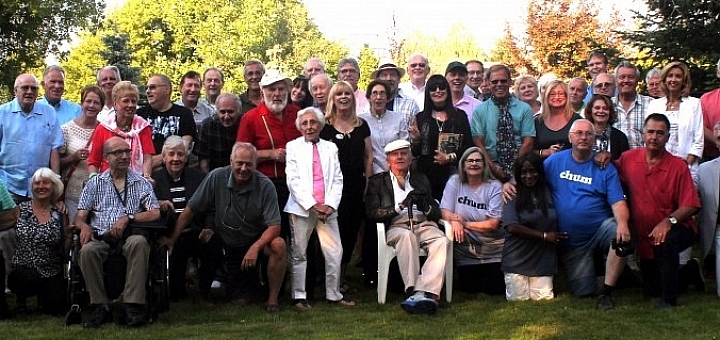 Sometimes You Can Go Home Again…and Sometimes, You Should
Having just written that, now I have to define what I mean by "home".
Certainly, one meaning is "where you live today."  And that's Calgary — the city that is my home and has felt like home almost since the day we arrived here, thirty years ago.  That day was less than three months after I had first laid eyes on the Rockies, driving west on the Trans Canada over that little rise as you come out of Strathmore, and was awestruck.  Martha and I were on Day 7 of a four-week Road Trip, Doing the West…out to the coast and back to Toronto… and from my first glance, the Rockies were seared onto my brain as if someone had put them there with a branding iron.  Well, a man's got to earn a living, and when you earn your living in radio, there's not much work in the mountains.  But there was plenty of radio nearby, in Calgary…and that was good enough for me.  So when we got back to Toronto at the end of the trip, I started working on landing a job in Calgary radio.  It only took a few weeks before I got an offer — which I took, obviously — to be News Director at KIK-FM (now Q107)…and a few weeks more while Martha and I worked out our notice periods in Toronto and hit the Road westbound again, this time to stay.  And everyday, I would look out the windows of our 41st floor apartment perched at the edge of the Don Valley, with its panoramic views in all directions — on really clear days, you could see the mist from Niagara Falls — and think to myself, "Great view, but it needs mountains."
So that's not what I mean by "home" in this piece.
Another meaning is "home town — the place where you were born, went to school, grew up."  Uh, no.  I don't mean that, either. "Home town" would be Sarnia, Ontario.  The last time I was in Sarnia was at the beginning of the Road Trip, and that was just so I could show Martha, "Here's the house I grew up in" and "Here's where I went to school" and "Here's the beach (the one glorious thing about the place)" before we crossed the bridge into Michigan and motored up the I-75 to Sault Ste-Marie.  Can't say I've missed the place.  I can say that I, and most of my friends, could hardly wait to grow up and move away.  And that — and radio — eventually brought me to Toronto.  I have to confess — and some of you may have to hold your nose when you read this, while others will say, "I knew it all along about that liberal Easterner" — that I dug Toronto.  Thoroughly enjoyed the ten years I called Toronto home. Thirty years on, I still find my way around Toronto with ease and I like going back to visit. But I don't ever want to move back.  It's not home now.
But last week, I took a trip to Toronto.  And in the back yard of a home in a leafy neighbourhood I'd never set foot in before, in the northern suburb of Richmond Hill, a stone's throw from the shopping malls and megaplexes and office parks and the asphalt of Toronto's endless sprawl, I went home.
The occasion was the CHUM Reunion, 1967-77:  an opportunity for all of us who worked at 1050 CHUM between 1967 and 1977 and are still alive to tell the tale, to get together once again.
One of these days, I'll write about CHUM because it was not only an important part of my life but of the lives of well over one and a quarter million listeners every day.  It had an enormous cultural, generational impact.  CBC thought it was significant.  CHUM was significant.
But I'll leave that for another day. CBC fans will want to set their hair on fire over that, and it'll take them some time to get their damp, soggy locks to catch.
This rant is about getting together with people I hadn't seen in anywhere from eleven years to thirty -announcers (DJs)(jocks), producers, technical producers (operators)(board ops), creative writers, newspeople (newsies)(reporters)(newscasters), promotional people, music directors, program directors, even a vice-president or two, and Jim Waters, whose late father Allan was the founder of CHUM Limited.
Some of us are still working on our first marriages and others are on their second or third.  If we have kids, the kids are grown.  A surprising number are grandparents. When you think about the age we are now, that's not surprising at all….but when I was at CHUM, most of us were in our 20s or just into our 30s.  Many of us are retired now — which is to say, we no longer work for a living but many of us still dabble.  Some stayed in media;  some did not.  Of those who didn't, some jumped and some were pushed.  Their careers outside radio are almost as varied as I suppose you might find if you went to a high school reunion — advertising, management consulting, teaching, running a liquor store, managing a moving company, information technology, politics, owning a minor league hockey team, and long-haul trucking (among others).  In short, we'd gone our separate ways.
Some stayed in Toronto.  The rest of us spread out across the land. That backyard gathering in Richmond Hill brought people in from Montreal, Calgary, Vancouver, Windsor, Muskoka, Brandon Manitoba, Ottawa, Washington and New York.  And it was one of the warmest, friendliest, happiest gatherings I've ever attended.
Before I left for the CHUM reunion, I wrote that I was a bit trepidatious about the trip. Living in the past is not for me, and I wrote that I thought it would be a bit strange to find myself "..with a bunch of  60-somethings (and a few older than that) reliving much younger days."  And there was a bit of that.  A few stories were told and tapes played of the things we did and the Magic we made on the radio.  And honestly, going into the reunion, one of the things I feared was that it would turn into a bitchfest about how the business has gone to hell in hand basket and how much better it was when we were doing it….you know the drill.  It's "Old Man Shouts at Cloud", and there's a hella lot of that going on among bitter ex-broadcasters in Canada these days.
But not at the CHUM Reunion.  Like I said, there was a bit of reminiscing, but far more reconnecting among people who hadn't seen one another in years and were genuinely interested in catching up.
No matter what else has happened in our lives, we have these two things in common:  the shared experience of having worked at the best top 40 radio station in the world when it was at the top of its game;  and because we were there and we understand what it took to be the best, a deep and abiding admiration for one another.  A bond of history and friendship built on rock'n'roll.
We'll each go back to living our lives now.  I'd love to say we're all going to keep in regular contact with one another, but that won't happen.  But it actually doesn't need to.  The bond is so strong that, wherever and whenever we meet again, we'll be able to pick up right where we left off.  Producer Bob McMillan put it best:
So much great friendship and, with many folks who I had not seen in 30 years, itt was as though we had sat down over coffee the day before.
That's Going Home…and I'm glad I did.