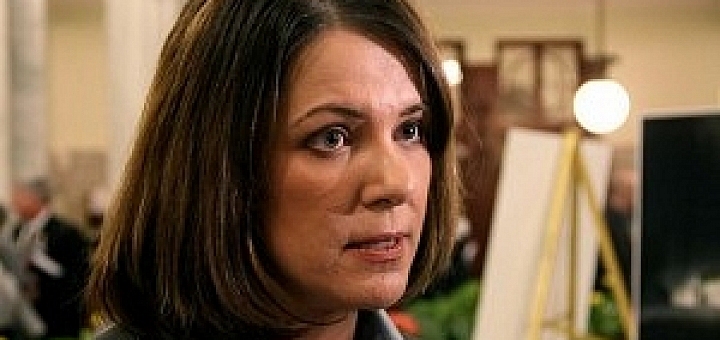 DANIELLE SMITH STARTS SEPTEMBER 8, 12:30-3:00 PM ON NEWS TALK 770
Martha and I spent yesterday volunteering with Habitat for Humanity (a little more about that in my next blog), and a day on a Habitat build site keeps you much too busy to follow the news or social media. So it was not until we got home that I heard the news:  Danielle Smith is my replacement on News Talk 770.
I'm really wondering how the righties are handling this.  On the one hand, they must be heaving a sigh of relief that they no longer have to listen to someone on the radio who adamantly doesn't see the world their way (because clearly, their god compelled them to listen to me, because he is a vengeful god who forces them to feel persecuted…either that, or being a rightie is some weird political manifestation of sado-masochism.) On the other hand, OMG!  News Talk 770 has replaced me — a privileged white male — with a woman! And now there are two of them! Danielle Smith and Angela Kokott, back to back! All afternoon!  (The horror…the horror…)
And for the lefties reading this who have no sense of humour — and no, I don't think they have the self-awareness to know who they are — I'm kidding. That was satire. You should try it sometime. Life really is better without sacred cows.
Before I left, I was told that the station was going to try out a number of candidates in my old time slot in essentially live, on-air auditions. And I am rather proud of having recommended that program director John Vos consider Danielle, although — and remember, this was during the provincial election campaign — at the time John winced and said, "Oooh, I don't know if the audience is ready to forgive her." Or words to that effect.
The ideal issues-driven talk radio host is either an experienced broadcaster or an experienced politician. Broadcasting experience gives you an understanding of the medium. Political experience gives you an understanding of the issues.  Rarely do you find someone who is both. I was. So is she.
Of course, qualifications on paper are one thing. You still have to be able to cut it on the radio. I hear Danielle did rather well in tryouts.  So I look forward to hearing her show.
(I've also heard shock and horror and dismay and not a few cuss words over the notion that QR would dare put THAT WOMAN on the air…but that comes with the territory. In talk radio, everybody has their haters. Politics is great training for talk radio — and vice versa.)
The last time I talked to Danielle Smith was December 5, 2014.  It was Pledge Day, News Talk 770's annual day-long broadcast from the lobby of the Westin Hotel to raise money for the Calgary Children's Foundation, and she had just come off the air after doing her hour as guest co-host.  I asked her how things were going in politics and she kind of shook her head, said she didn't know, and indicated we should get together sometime soon for a coffee.  A week later, Martha and I left for vacation in Australia…and 5 days after that came The Great Defection.
I think I'll give Danielle a courtesy call (or text or e-mail or some such), congratulate her on her new gig (which I mean sincerely), and (tongue planted firmly in cheek) tell her not to screw it up like she did her last job!
And maybe we can go for that coffee.