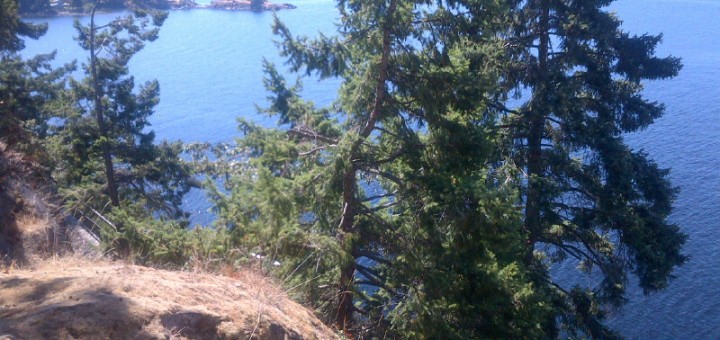 You will have noted by now that it's been nearly a month since I've written anything in this space.
I fully expect that in the not too distant future my rants and musings here will become much more frequent — maybe even regular — because my environment will be much more conducive to putting analog thoughts down onto digital paper. My only question is whether you will find what I have to say still relevant. I hope you will.
For my part, I will try to continue what I've always strived to do — entertain, inform, and provoke. Share some perspective. Give you something to chew on. And if I really hit the target, get you to examine an old opinion in a new way. But soon, I won't be doing it from Calgary.
The deal closed late last week. We've sold our house in Calgary. In a couple of months, we'll be moving to Salt Spring Island.
Those of you who've been regular readers of this here blog will know that we've been making frequent visits to Salt Spring Island since not long after I got out of politics. We discovered Salt Spring while on a trip to the coast and it was, if not love at first sight, a serious case of infatuation. Serious enough that Martha and I asked ourselves, "Could this be where we want to live?" Not a frivolous question when you consider that:
It's an island
Although it's a reasonably big island, with a year-round population of about 11,000 and big enough that it's about a 30-minute drive north-to-south and a 20-minute drive east-to-west, and three ferries — one to Vancouver, one to Victoria, and one to Crofton (which is close to Duncan on Vancouver Island) — but still…
It's an island, and in the time it takes to drive from one end to the other, you're probably not even home from work in Calgary in rush hour
Its year-round population is less than one percent of the population of Calgary
It rains a lot in the winter
In short, Salt Spring is nothing like we've been used to in the 31 and a half years that we've called Calgary home. So we've gone back, time and again, in all seasons, staying in vacation rentals in different parts of the island, cooking our own meals, doing laundry, buying groceries, trying (to the fullest extent possible as visitors) to live like we would if we were Salt Spring residents, getting to know people who do live there, getting used to what it means to "go into the city" — drive to the ferry dock, wait for the ferry, take the ferry to Swartz Bay Terminal, drive into Victoria, and you've just spent two hours to travel 56 kilometres. Slow down. It's okay. Life lived on island time is good. Very good.
We hiked through the rain forest in the rain. We sat on a deck in short sleeves in February. We grooved to the live music at the Treehouse. (There are two cafes in the world that I know of called the Treehouse — one in Monteverde, Costa Rica, the other on Salt Spring. They're both built around living trees. And they're both very cool.) We talked politics with the locals. We shopped at Mouat's and the GVM. We played pool at the Legion. We walked by the water and drank in the view (views, actually — they're different on every side of the island). And this summer, we decided — we'd better start looking for a house to buy.
There are a lot of, shall we say, "unique" homes on Salt Spring, so we thought it might take three or four trips to find one that was to our liking. Out we went in late August, and we bought the first house the real estate agent showed us.
When she took us through the it, she cautioned that there was an offer on it. We loved it, but we weren't about to get into a bidding war, so we kept looking. After the third or fourth house we visited, the agent said, "There are now competing offers on it." So we put house number one out of our minds and kept on looking. At the end of the day, we hadn't found anything quite right. We were expecting the real estate agent to scare up some more homes to show us in another couple of days, but what we got instead was an e-mail that read, "Both offers on that house you really liked have fallen through. Do you want to make an offer on it?"
Well, yes, we did. And before August became September, we had ourselves a house on Salt Spring Island.
Of course we're looking forward to relocating. Of course a large part of us wants to be there now. Or if not now, maybe tomorrow. And of course an equally large part of us is sad to go, to leave behind good friends made over half a lifetime.
When we arrived in Calgary (for work, but the mountains were pretty enticing too), we had been married barely a year and we thought we'd be living here for three years, maybe five. Then came our first child, then our second…and three weeks before our second was born, an offer to go back to Toronto as news director at one of the radio stations there — which I turned down. I'm sure our lives would have been different had I taken the job, but I can't imagine that they could have been better.
So why are we going? Other than for the jaw-dropping beauty of the place, the laid-back vibe, and the way those two qualities come together in one's soul to make one want to create something, you mean?
Because it's time to go exploring again.
I'm always amazed at how Respectable Martha and I look when we clean up and put on business attire. Like poster children for white privilege. It's really a little misleading because, although neither of us can deny our proper Anglo-Saxon Protestant upbringing (she Anglican, me United), which trained us both well in the art of Navigating the System, no matter how Respectable we look, both of us really are lefty, tree-hugging hippies at heart. Bourgeois hippies, yes. But hippies nevertheless. In my soul, I still have hair, and it still goes down to my shoulders.
So, yes, when I talk about going exploring, there is a spiritual, cosmic, hippie-dippy component to that. (Not yoga, though. I've tried it. It nearly killed me. I'm far too musclebound.) We intend to travel as long as we're able, so there's that kind of literal exploration. But between trips, we want to be able to look at the world from a different perspective and at this stage of our lives, it requires a different home base, a different vibe. It's our restless spirit — nothing more and nothing less.
There will still be much to write (and rant) about.
You don't spend 31 and a half years in a place and just turn your back on it, so I will still be following with interest, and commenting on, events in Calgary and Alberta. As well as events in Canada. And naturally our current great, global preoccupation with America's descent into darkness. But — assuming Trump doesn't end up killing us all — there will also be some whimsy from time to time, some wit, and maybe even some wisdom. Or at least some impressive-sounding bulls**t that passes for wisdom until you think about it.
These days, I'm not sure how much of a market there is for what I offer because it does involve asking people to think, and blind partisan stupidity seems to be the current hot property.
But more about that in rants to come.