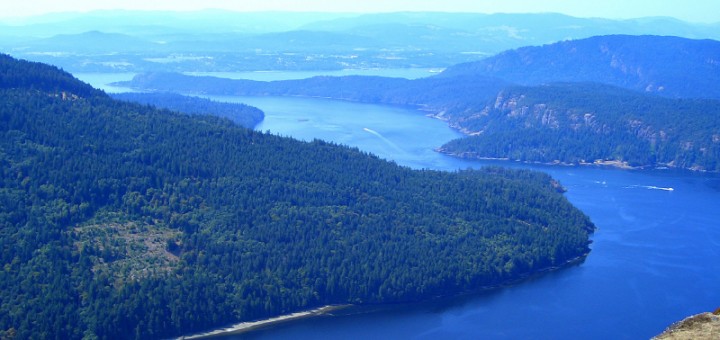 Martha and I have just returned from a glorious few days on Salt Spring Island. It might be the perfect way to end a summer – or at least, the perfect end to the kind of summer I've just had.
In my past past life – media – we used to refer to The Dog Days of Summer: when nothing much of substance happens because too many people are on vacation, having fun, and just not paying attention!
In the news business, if you yourself are not on vacation, this is a Bad Thing. Because you still have to fill your newscast or talk show or the pages of your newspaper with something at a time when nothing much is happening. And to boot – since your audience is off having fun instead of watching/reading/listening to news – it takes news with a certain shock value to get their attention. Hence, if the End of the World is not Imminent – and even the Mayans wisely predicted that to happen in December! – Prince Harry cavorting naked with groupies in Vegas becomes A Big Story.
In my current life as a recovering politician, however, The Dog Days of Summer were a Very Good Thing. Discounting the monsoons of June, I have had nearly five months of just about perfect summer weather in which to recharge my batteries.
Instead of running for office, I've rediscovered running as something you do to keep fit. I'm down 20 pounds from my in-office weight.
I've had the luxury of time to pursue my two favorite hobbies – birding and gardening. In office, the only times I got to birdwatch were when we were on vacation and gardening became an exercise in frustrating compromise: how to get all the planting crammed into a couple of days in May, all the cleanup done in an equally short time in the fall, and do a minimal amount of maintenance in between to keep the yard from looking abandoned. This year? Much different. And in the case of the garden, the results speak for themselves.
We didn't travel to any exotic destination, but we got away to Southern Ontario for a week. To Seattle for a week. To the Gulf Islands for a week. Day trips to the mountains. Explored Wyndham-Carseland Park again, for the first time in maybe five years. Drove the Cowboy Trail. Spent a day around Innisfail visiting the farms of the Innisfail Growers Co-op, seeing where they grow all those delicious strawberries, asparagus, carrots and peas that they sell at the Calgary Farmers Market.
And I admit it – much to the horror, I'm sure, of the Canadian Dermatology Association – I've got a pretty good tan.
The other thing I got out of this summer was some clarity.
Out from under the dome and free from the everyday demands of work, I have had the luxury of being able to sit back and observe The Big Picture – State of the World stuff.
There are two or three big issues out there that our governments need to chew on, because they are generational in scope. That is to say, how – or whether – our governments deal with those issues will impact every one of us. And I gotta say, I'm not seeing a lot of evidence that many of our politicians even have them on their radar yet.
If they do, they certainly have not learned how to articulate them.
So, as your humble servant, I will attempt to lay the issues out in plain language for your consideration over the next couple of weeks. Stay tuned.