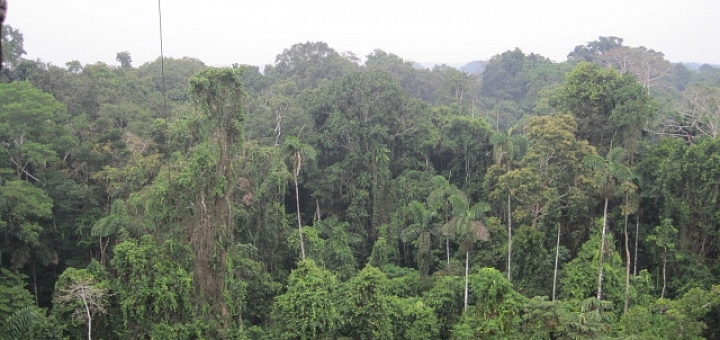 If you have a Bucket List, put this trip on it!
Martha and I returned this week from a 15-day trip thru Ecuador, down into the Amazon jungle, up into the Andean highlands and around the Galapagos Islands.  I cannot say enough good about it!  Phenomenal!  We used to say that our safari to Kenya and Tanzania which we took five years ago was our trip-of-a-lifetime.  Now, at minimum, I can say we've been on two trips-of-a-lifetime, and I think this one may even have been better. We did Africa — well, parts of two countries in Africa — for our 25th wedding anniversary and we liked that so much that we made a pact to undertake a bigger-and-bolder-than-usual travel experience every five years.  So, the Ecuador trip was for our 30th, and we can sort of envision how this will evolve as we age.  Speculating here, so don't hold us to any of these specific examples, but it might go something like this:  India or Japan for our 35th…Antarctica for our 40th…a month or two in Tuscany or the south of France for our 45th…Palm Springs for our 50th…and a trip to the mall in the shuttle van from the seniors lodge if we make it to our 55th! The Ecuador trip was four distinct and surprising experiences and so I will write a separate blog about each one in the days to come.  And I hope you'll find them more than just the stuff of travelogues, because we were in each destination long enough to become more than merely casual sightseers.  Sightseeing was never really the point of the trip, of course.  The primary reason for this trip, as with Africa, was the nature experience — the birds, the monkeys, sharks and iguanas, land tortoises and sea turtles, sea lions and the different environments in which they live.  We knew that, along the way, we'd encounter some adventure, some culture, some history and some stories of a land and its people.  What we found in each of those categories was much, much more than we'd imagined! I'm calling this our Journey to the Middle of the World because you cross the equator — Mitad del Mundo — about 24 kilometres north of central Quito, Ecuador's capital city.  A massive monument, about a hundred feet high, marks Latitude Zero with a yellow line extending to the east and west separating the Northern and Southern Hemispheres.
The idea is to have your photo taken astride the line with a foot on each side of the world.  We dutifully did this, so that we would have Standing-on-Both-Sides-of-the-Equator-in-the-New-World pictures to go along with our Standing-on-Both-Sides-of-the-Equator-in-the-Old-World photos from Kenya. I can only say about Africa that we believe we were standing in the right place, because the equator is said to bisect the bar in the Mount Kenya Safari Club.  Five years ago (after taking each other's pictures astride the line outside the bar's entrance) we went inside, sat at a table that sits on the line, ordered a couple of drinks, clinked our glasses, and Martha drank hers in the Southern Hemisphere while I drank mine in the North.  Or so we choose to believe because there's a sort of romance to it.  In Ecuador, by comparison, I'm sad to say that we knew we were scamming you when this picture was shot!  Or, more politely, this photo is symbolic rather than precisely accurate.  We know this because the monument was built – and the line painted – where a scientific expedition from Europe pinpointed the equator's location over 200 years ago.  How the scientists did this given the technology they had is beyond my understanding.  They were apparently pursuing the theory that the earth bulges slightly at the equator, and they found the bulge.  With what, I know not.  Nevertheless, you gotta be impressed!  Turns out they were wrong, but not by much.  Today we use GPS to take the guesswork (and romance) out of such things and GPS says the equator is actually 400 metres north of the monument.  We did cross the real equator right after our stop at the monument, but we already had our pictures…and hey, we'll always have the Mount Kenya Safari Club bar.
There's an ethnographical museum inside the monument which tells the stories of Ecuador's indigenous peoples.  It was our first insight into Ecuador's diversity, and it makes Ecuador a good deal more complicated than you might think.  More on that when I write about our trip into the Amazon — but that's a couple of posts away. Next time, I'll tell you about Quito.  It had been presented to us, pre-trip, as the place we would be visiting at a slow pace for three nights and two days to get used to the altitude.  Quito is 2800 metres or about 9300 feet above sea level, almost three times higher than Calgary at 1084 metres or about 3500 feet, and frankly, higher than the summits of most of the Rocky Mountains.  There's a danger of suffering altitude sickness and visitors  to Quito must acclimatize themselves.  So we were expecting the trip to really begin only after we left the capital and, from Quito itself, we weren't hoping for much more than a comfortable bed. We were wrong about that…on so many levels.